Tracking Schuttevaer Sailing Race 2007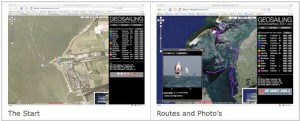 During June 7-9, 2007 the Dutch Schuttevaerrace was covered live using Just Objects' GeoTracing platform in combination with Falcom Mambo GPS/GPRS tracking devices attached onboard with 15 boats. I did this project jointly with the Kenniscentrum Jachtbouw (Dennis Carton, project initiator), Grrr (Jelmer Boomsma and Rolf Coppens) and the Internet Acedemy of the Noordelijke Hogeschool Leeuwarden (Frederik van der Meulen, Ronald Klooster).
Except with some GPS-fixing and GPRS coverage issues and this event was a huge success.
(Random images taken by sailors from www.geosailing.com/svr )
Some screenshots.
Read more on www.geosailing.com .