Cheers to 2019
Overview of my professional life in 2019. Inspired by the concise bullet-point-style of Tom Kralidis' Cheers to 2018 , on which I based my previous Cheers to 2018. Highlights of living and working in the Open Source Geospatial and OSGeo(.nl |.org )-world in 2019. Organized by "Theme" i.s.o. by month.
TL;DR. My 2019 highlight was providing the GeoPython Workshop ("Doing Geospatial with Python") at the FOSS4G in Bukarest . A really great team-effort: first remote collaboration to get the content done. Then at the spot, despite network failures, providing a hopefully inspiring workshop on modern GeoPython. Kudos to Tom, Angelos, Francesco, Jachym, Luis and Jorge!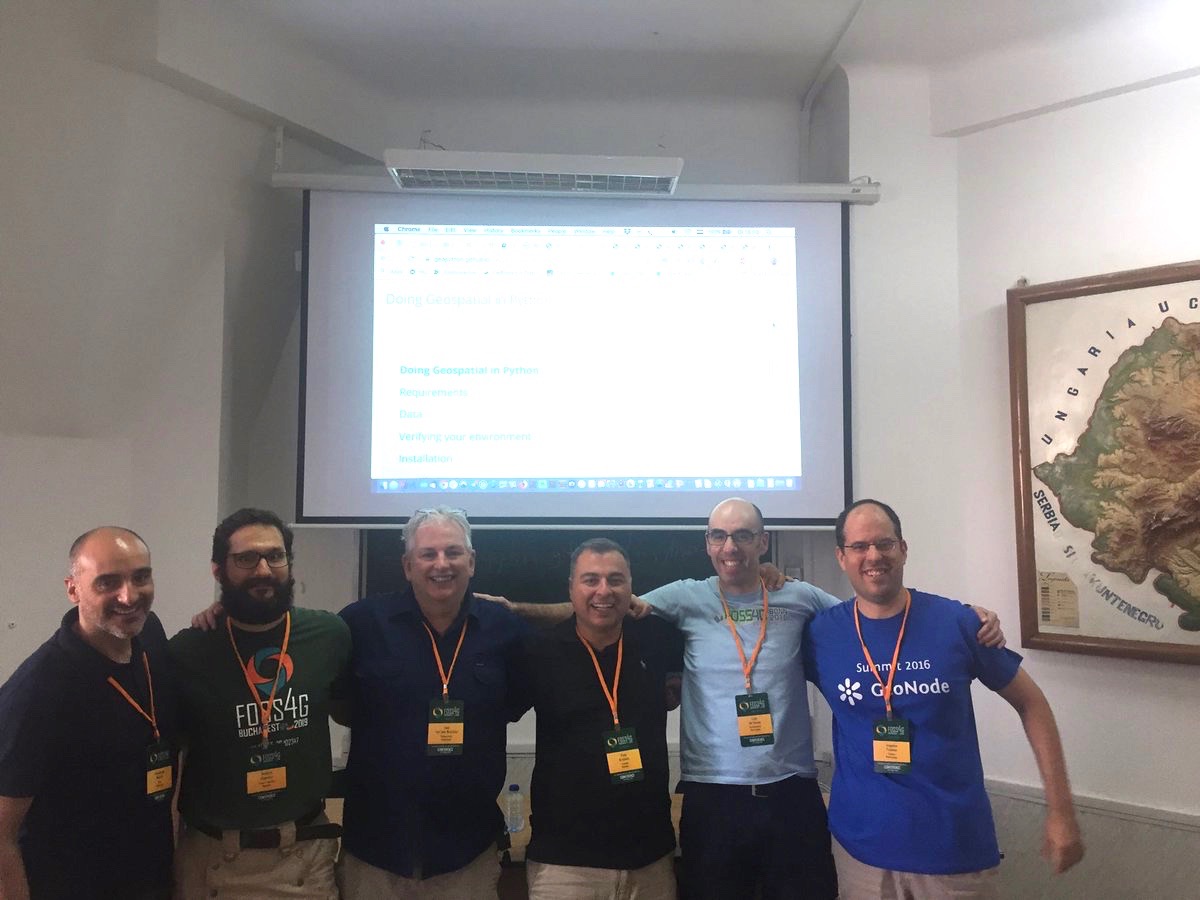 My second highlight was joining the pygeoapi project. Had a love/hate relationship with WFS , but the new OpenAPI direction in OGC and the great team behind the pygeoapi project made me want to be part of this. BTW pygeoapi has just (Jan. 2020) received <span style="font-weight: 400;">OGC Compliance Certification and Reference Implementation Status</span> for OGC API – Features specification.
Geospatial Cloud Services
Main focus. Seriously moving into hosting Geospatial Cloud Services, both as a source of income and to support/strengthen underlying open source projects. Warning: shameless ads below.
Throughout 2019 – expanded map5.nl , a subscription service for Dutch topographic, historical- and embellished hill-shade and arial maps I started to host in 2015.
January – launched GeoQoS.com , a Cloud-hosted GeoHealthCheck (GHC) service on a subscription basis. GHC is is an uptime and QoS monitor for (OGC) web services. Customers get their own GHC instance. GeoQoS.com saves the burden of self-hosting GHC. Truly, I can't do without GHC for any of my geospatial web-services (like map5.nl ). Developed with Python Django and Stripe , deployed with Ansible (can't do without) and off course Docker .
Dec+ into 2020 – something big – more to be announced.
Contract Work
As my focus is more and more on providing "Geospatial Cloud Services" (see above), not too much contract work in 2019, though I am always open for offerings!
For Stantec NL – custom GeoHealthCheck Plugins (Probes/Checks) for ESRI ArcGIS Feature services, plus several Auth-facilities (Basic, Token) for auth-based web-services.
For COIN NL – NLExtract Project – added shortened streetname (

verkorteopenbareruimtenaam

, a Scrabble-winner, yes!) to BAG (Dutch Adresses and Buildings Dataset) Postgres Dump and Address CSV.
Open Source Contributions
Continuous work as a contributor on several Open Source Projects. Apart from some GitLab Projects, you can find/follow me best on GitHub .
More Contributions – Handy Docker Images
To support many of the Cloud services and Open Source projects, I developed several handy Docker Images, also available from my DockerHub .
Not too many Docker Image downloads, but look at docker-jmeter, over 1 million! Glad to give to The Commons .
OSGeo.nl
Now as chair of the board, still involved in the OSGeo Dutch Local Chapter, OSGeo.nl since its establishment in 2011. Thanks to our wonderful volunteers, we were able to organize several events.
Conferences – Attended
Hackathons & Code Sprints
I always love to go to hackathons. From software to hardware-hacking with the Sensemakers Amsterdam .
Talks & Workshops – Provided
On several of the above events I gave some presence with presentations and workshops. Most of my slides can be found on slideshare.net/justb4 Below some links.
June 25 – GeoPython Basel – presented GeoHealthCheck .

August 25-31 – FOSS4G – Bukarest . Provided GeoPython workshop. All together with the great GeoPython team as in picture above.
Logo Design
I don't consider myself as a designer, but with a little help from online logo-creation platforms and feedback from my co-workers, I created the following in 2019:
For GeoQoS.com – hosted GeoHealthCheck in the Cloud.

For the pygeoapi (OGC API Features, "WFS3", in Python) Project

Resolutions 2020
More effort into Wegue project
Further expanding hosted Geospatial Cloud Services
Improve on and provide the GeoPython Workshop
Whatever comes around.